glFEM explores and improves multi-scale FE coupling capabilities. Interaction of different models on different length scales will be clearly defined enabling an automatic coupling between local and global FE analyses. This automatic coupling includes iterative processes, forward/backward interactions as well as automatic generation of local models. The local models involve local effects that influence the global structural behavior (e.g. skin-stringer debonding or local material damage).
The novel contribution of glFEM is an explicit investigation and establishment of innovative and reliable coupling approaches, which are automatic, iterative, generically applicable and not limited to a one-shot or one-way solution.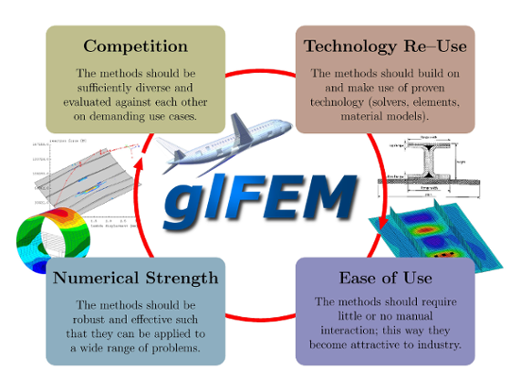 Developed in part within the glFEM FP7 programme,the submodelling framework allows for generating FE meshes and boundary conditions of thin-walled structures, such as airplane components. Staring from a surface description, the tools can generate shell or solid FE models.